There are three ways to update your contest plugin.
Read before update:
■ Will my data be saved after update via Plugin Admin/FTP?
Yes, all data will be saved (contests, photos, forms, settings, etc). Please make database backup (good backup plugin) to be not concerned about update success ☺
■ What I must do after plugin updated?
Please navigate to Photo Contest => Settings, check is all correct and click Save.
The same with active Contests settings & Forms.
Required: After go to Dashboard => Settings => Permalinks and click Save.
■ My license is active, but I got an error "Update failed. Update package not available". How to solve this problem?
Please contact to support with indicating your current plugin version.
== Use the update function in the Plugin Admin ==
When you log in to the admin of your website, you may see a number next to 'Plugins' in the menu. This indicates the number of updates that are available for your plugins.
If you use WordPress 3.8, it may look like this: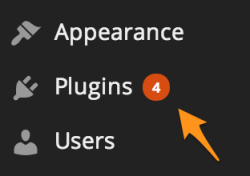 If you see this and you go to your installed plugins, by clicking the Plugins-menu-item, you will see the following text below a plugin. (Or in case of the above example, at 4 plugins)

By clicking the 'Update now' link, your plugin will automatically be updated to the latest available version.
Video tutorial – how to update WP plugins.
Next – follow this instructions.
== Update via Plugin Admin & zip archive ==
Navigate to Dashboard => Plugins
Find WP Foto Vote, click Deactivate and Delete

Navigate to Dashboard => Plugins => Add new, click "Upload Plugin", select plugin .zip and click "Install now".
In the new window after Installing click Activate plugin
== Manually update via FTP ==
If your WordPress admin doesn't show the available update or if the automatic update doesn't work, you may want to manually update your free plugin.
In order to do this you'll have to take the following steps:
Extract the downloaded wp-foot-vote.zip file.
With your FTP program, upload the extracted plugin-folder to the wp-content/plugins/wp-foot-vote folder in your WordPress directory online.
NOTE: Make sure you overwrite the existing plugin-files.
Your plugin has been updated!
All settings will be saved, so you will not have to reconfigure or activate the plugin again. But please check that plugin is active in Dashboard => Plugins.
Last update: 29/09/2016